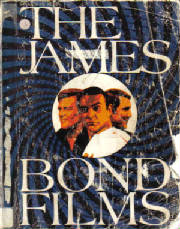 THE JAMES BOND FILMS:
A Behind the Scenes History
. Steven Jay Rubin. Arlington House; 1981. This seminal book on the James Bond films has lots of great pictures and is bolstered with nearly seventy interviews with many of the directors, writers, and actors associated with the 007 movies. This is chock-full of interesting behind-the-scenes details. It covers all the films up to
For Your Eyes Only
.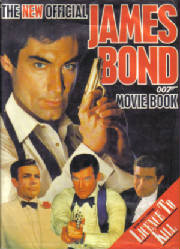 THE NEW OFFICIAL JAMES BOND 007 MOVIE BOOK. Sally Hibbin. Crown; 1989. An oversized hardcover with lots of photos that covers all of the films from Dr. No to Licence to Kill. Each chapter (corresponding to each film) is divided into sections titled "assignment," "equipment issued," "enemy personnel," "Bond girl," and "background." There are synopses of each film but no critical analysis. Lots of factoids about each movie [much of which will already be known to the fan]. But a nice gift book for young Bond-lovers.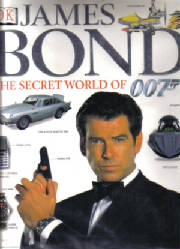 JAMES BOND:
The Secret World of 007
. Alastair Dougall. Dorling Kindersley; 2000. From
Dr. No
to
The World is Not Enough
, this heavily-illustrated, oversized tome covers each film with sections on "missions," "villains," "box of tricks," "Bondmobile," and so on, using a slick picture-laden format consisting of many different factoids about 007's exploits, weapons, cars, planes etc. There are details of villains' lairs [Atlantis from
The Spy Who Loved Me
and Hugo Drax's space station in
Moonraker
, for example] with cutaway sections and other drawings by Roger Stewart. Probably of more interest to younger fans who don't want to do too much reading and are fond of big photos.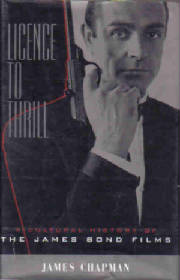 LICENCE TO THRILL:
A Cultural History of the James Bond Films
. James Chapman. Columbia University Press; 2000. An analysis of all of the 007 films, critical reactions to same, and of the character of James Bond and how he and the movies relate to the contemporary world and its mores and changing conventions. Some behind-the-scenes info, black and white photographs, notes, and filmography.