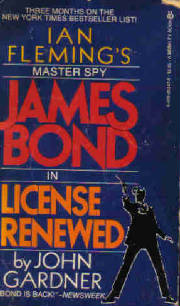 LICENSE RENEWED. John Gardner. 1981.
After the debacle of Colonel Sun by Kinsley Amis, James Bond was reintroduced and reinvigorated by John Gardner in this highly excellent thriller which began a whole new series of Bond novels by Gardner. In this adventure Bond is up against the potent combination of Anton Murik -- a nutty physicist who is outraged that the world has rejected his new idea for nuclear plants as "unsafe" -- and Franco, one of the world's most dangerous terrorists. To gain money to build his devices and prove the scientific community wrong, Murik, with Franco's aid, comes up with a scheme to take over several nuclear power plants and cause simultaneous melt-downs unless a massive ransom is paid. Of course, he has no intention of letting Franco keep his share of the money, and hires Bond, whom he thinks is a mercenary, to assassinate the terrorist. Then there are the two women in Murik's life, his niece Lavender Peacock, who seems to be on the side of the angels, and his girlfriend Mary Anne Mashkin, who appears to be Murik's partner in other ways as well. Murik is the Scottish Laird of Murcaldy, although he may not have the right to the title. [In On Her Majesty's Secret Service, Blofeld also pretended to be something he was not.] The climax takes place on a giant starlifter aircraft in which Bond has a chilling fight to the death with Murik's lieutenant Caber, and there are exciting sequences at festivities (including a fashion show at which Lavender models) in Perpignan in the French Pyrenees. Murik almost approaches the level of a classic Bond villain, although Franco is not developed nearly as well. Suspenseful, well-paced, and well-written, overall, this is a Good Show!
The 007 designation has been abolished by the time of this novel, and the head of Q Branch (weapons) is Ann Reilly, an attractive woman known by the nickname Q'ute. Reilly has a a high-tech bedroom featuring holograms and the like that is the match for any male make out artist's. She appeared in other Gardner novels as well.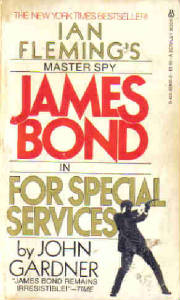 FOR SPECIAL SERVICES. John Gardner. 1982.
In his second Gardner-scribed adventure, Bond fears that his old foe Blofeld may have somehow survived, or that a new Blofeld – possibly a family member – has emerged to take over the reins of the sinister organization SPECTRE. It seems that the re-formed SPECTRE may be behind a series of deadly hijackings to engorge its coffers and fund a major and even deadlier operation. Teaming with Felix Leiter's daughter Cedar, disguised as an expert in Hogarth prints, Bond travels to the enormous ranch of Markus Bismaquer, supposedly an American Nazi-type who may be the new Blofeld. Or is it his partner Walter Luxor with the disfigured face and chalk-on-blackboard voice? The book introduces – and, unfortunately, kills off – Nena Blofeld, the true head of SPECTRE, and the late Blofeld's equally evil daughter. [Nothing is made of the fact that Bond is involved with two daughters of colleagues/foes in this adventure.] Bismaquer manufactures an ice cream that can sap men's wills, and SPECTRE employs it in an attempt to take over NORAD headquarters in Cheyenne Mountain in a climax that reminds one a bit of Goldfinger. Highlights include an accident in an elevator; the attempted escape on a monorail; and both a prologue and epilogue involving deadly thirty foot pythons in Nena Blofeld's house in the bayou. Wild!
Gardner is at his best describing action and setting the scene; at his worst when he gets "psychosexual." Bismaquer is apparently bisexual [Cedar Leiter simply refers to him as a "faggot" in a highly antiquated manner] and makes love both to his wife Nena, and – inexplicably -- his horribly disfigured partner Luxor. Nena assumes that he betrays SPECTRE in the end and helps Bond because of an attraction to 007, an aspect that remains, mercifully, unexplored.
In chapter six we learn that Bond gets much more of an "emotional charge" from New York City, which he clearly loves, than he does from London; he dines on asparagus, pears, sole, and Dom Perignon at the elegant Le Perigord, an excellent French restaurant, on E 52nd Street.
Despite some silly moments, this is an excellent, highly suspenseful, and exciting Bond adventure; definitely one of Gardner's most memorable.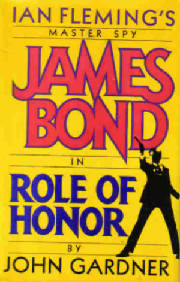 ROLE OF HONOR. John Gardner. Putnam's; 1984.
Having inherited some money which he spends profligately, Bond is instructed by M to fake a resignation from the service so that he can field offers from those who might wish to take advantage of his position. This brings him into contact with a computer wiz, Jay Autem Holy (now known as St. John-Finnes), who faked his own death and who runs programs to aid criminal activities in order to finance a major coup that will, he believes, unite the world in peace. Unfortunately, his partner in this dangerous affair is one Tamil Rahani, a wealthy Arab who runs terrorist training camps and is the new head of – you guessed it -- SPECTRE – and he isn't interested in peace. Before the conclusion of this caper, Bond will have to survive a field test in which everyone is given real ammo, and then – while aboard a commandeered Goodyear blimp -- prevent Rahani from sending a signal that will cause the U.S. to unilaterally disarm, creating a disastrous imbalance of power.
Although not quite as outstanding as For Special Services and Nobody Lives Forever, this is an excellent, very entertaining Bond adventure that becomes quite suspenseful and gripping as it goes along. Bond is given instructions by one Persephone Proud, Holy's ex-wife, but she disappears through most of the story and doesn't return until the end. Bond dallies with a black female agent named Cindy, and is also aided by another computer expert named Peter Amadeus, who is openly gay. Although he is described as basically being non-stereotypical, Amadeus is (affectionately) referred to as "the queen of the night" by Cindy. However, Bill Tanner refers to him as "a brave young man." Holy's new wife, Dazzle St. John-Finnes, is intimated to be involved with Rahani, but she is nowhere to be found in the next book, in which Rahani returns to cause much havoc in Bond's life.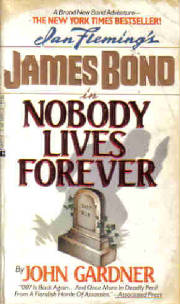 NOBODY LIVES FOREVER. John Gardner. Putnam's; 1986.
Bond only wants a vacation, but he finds out that a dying Tamil Rahani (see Role of Honor) has put a price on his head, and representatives from virtually every terrorist and criminal organization are trying to collect the ten million dollar bounty. All they have to do is deliver Bond to Shark Island off Key West, where Rahani is waiting, so the leader of SPECTRE can see Bond beheaded in front of his eyes. To make matters worse, Bond's housekeeper May and Miss Moneypenny have been kidnapped from the Austrian clinic where May was sent to recover from serious lung trouble. Along his deadly journey through Europe Bond picks up two passengers in the form of Principessa Sukie Tempesta and Nannie Norwich, who runs an exclusive all-female bodyguarding service [Norrich Universal Bodyguards or NUB]. Bond will also encounter a double agent, a corrupt Austrian cop known as Der Haken (The Hook), beat off a deadly, specially bred vampire bat in the shower, and nearly get eaten by a bull shark as he swims for a final encounter with Rahani and a very exciting and grisly climax.
Paranoia runs rampant in this fiendishly clever and fast-paced thriller, one of Gardner's all-time best. It moves so fast that we learn little about what makes Nannie tick, for instance (and this was the last opportunity for us to get to know her). Bond's actions seem a little odd at times, and the whole, convenient business of dragging the two women with him wherever he goes doesn't really make much sense (it has to happen for the sake of the plot). Still, the darn thing is so entertaining you're dragged along with the flow anyway.
Miss Moneypenny kisses Bond passionately when he rescues her, but it's made clear that Bond can never return her feelings (she is the good sport of the century!). In Salzburg he stays at the Goldener Hirsch hotel and dines on Tafelspitz (delicious boiled beef) and a dessert souffle with lots of Schlag (whipped cream). In Key West Bond stays at the Pier House Hotel, where he – or more accurately, the hardly macho-looking Gardner -- makes a tacky, very dated observation that it's a kind of "fairyland" in more ways than one when you look at the waiters. A fellow agent of Bond's is named Crispin Thrush [Ian Fleming helped create the Man from U.N.C.L.E., whose antagonists were the group Thrush].
Nobody Lives Forever, unlike Fleming's best books, is absolutely mindless, but oh what a lot of fun!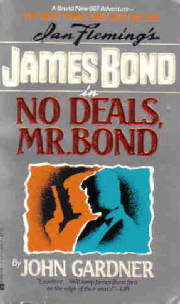 NO DEALS, MR. BOND. John Gardner. 1987. Bond is given a special assignment by M, and told in no uncertain terms that it must be handled in the most clandestine fashion; M will disavow all knowledge of his actions. Five young people who were involved in Operation: Creamcake [in which they were recruited to sleep with Russian agents and learn their secrets] are being murdered, their tongues torn out, one by one. Bond is told to rescue the surviving members, and find out which one of them betrayed all the others. His antagonists are Colonel Maxim Smolin of the GRU, and General Konstantin Nikolaevich Chernov, Chief Investigating Officer of Department S of Directorate S, KGB, but who really represents the old boys at SMERSH. The action speeds along from Ireland to Paris to Hong Kong, with a suspenseful climax on Cheung Chau [or "Dumbbell" after its shape] Island where Bond has to fight for his life against four "Robinsons" [hardened criminals who have been falsely promised a pardon if they succeed at assassinating Bond]. There's also a scene at an Irish castle ["Schloss Gruesome," Bond calls it] featuring some deadly dogs and a witchy KGB agent named Black Ingrid. This is an exciting Bond adventure with a lot of twists and turns and surprises, including never knowing which supporting character is on the side of the angels or at the right arm of the devil. Bond also has a quick encounter with Q'ute, meeting her in Paris to get some equipment, and returning to the safe house he's sharing with a sexy lady with "a lot of Q'ute's lipstick on his handkerchief." Gardner's prose is occasionally purple: "She had the kind of deep blue eyes in which a man would not reject the chance of drowning, and lips that cried out to kiss and be kissed." But this is still excellent Bond and excellent Gardner if not quite at the very top of the list.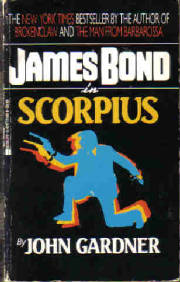 SCORPIUS. John Gardner. 1988.
Absolutely one of Gardner's best 007 efforts, and one of the most entertaining and chilling Bond novels ever written. Bond takes on a malevolent cult leader named Father Valentine, who turns out to be none other than loathsome arms dealer Vladimir Scorpius, who has switched from selling mechanical weapons to marketing the services of his brainwashed cult members, The Society of the Meek Ones, as human bombs. A campaign of terror reigns in England as these human bombs blow themselves up at public gatherings, taking many public officials and innocent spectators and police officers with them. Father Valentine has also issued a smart card, a credit card, Avante Carte, to his members, and it also has menacing possibilities. Bond joins forces with Harriett Horner, an American IRS agent, and a military man named Pearlman whose daughter is a member of the cult. But Bond isn't certain that either can be trusted, as someone seems to know his every move... It all winds up on Hilton Head Island, off South Carolina, where Valentine/Scorpius has his headquarters, and Bond tries a thrilling escape through a nest of hundreds of scorpions, and a run across a beach occupied by dozens of deadly snakes whose one bite means near-instantaneous death. The thrilling climax has Bond desperately trying to prevent a final attack on both the Prime Minister and the President.
Scorpius is prime Bond. It pulls the reader along from the first paragraph and never lets go. The supporting cast is more interesting and dimensional than usual, and more than one of the characters comes to a moving fate. The novel also taps into contemporary fears of cults and terrorists and human bombs, who have become all too common in the real world. As an in-joke, Gardner has Bond watch The Untouchables on an airplane in which "a favorite actor of his" played a Chicago cop. [The role was essayed, of course, by Sean Connery.] Possibly expressing his own feelings about the death penalty Gardner has Bond, improbably, make the comment that "I don't believe this eye-for-an-eye business... I've been in the game too long, and there's something particularly vile about snuffing out life if there's another way." Not so improbably, Bond forgets all of this stuff and deliberately engineers the death of the truly miserable villain at the end. [Bond would try not to take a life if he could help it – he was certainly never as casual about death as the movie 007 is -- but he would take pleasure in snuffing out certain despicable and merciless parties it it came to it.]
Despite some suspect or illogical moments, Scorpius is the real deal.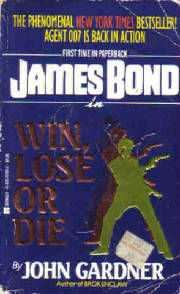 Win, Lose or Die. John Gardner. 1989. One of Gardner's very best Bond adventures, this has our hero involved with war games at sea (Landsea '89) and battling the new group BAST – Brotherhood of Anarchy and Secret Terror, which consists of the Viper, the Snake, and the female Cat, whose identity remains secret until the end. Could it be Wren Clover Pennington, whose background seems above reproach? Or maybe Beatrice Maria de Ricci, whom Bond seriously begins to fall for? (With her, Bond recalls the last Christmas he spent with his parents before they died.) Several exciting chapters take place on the island of Ischia, off the coast of Naples (Bond's ruminations on Naples are interesting), where Beatrice is assigned to Bond as bodyguard. This book introduces us to the fascinating Bassam Baradj (the Viper), aka Hell's Kitchen-born Robert Besavitsky, an audacious master criminal who even manages to take over a British military base at one point, substituting himself for the real commander, fooling Bond and everyone else. Gardner provides a complete background dossier and biographical sketch of this sociopath who reinvents himself almost as often as Ian Fleming's Ernst Stavros Blofield.
During the war games Bond heads security for Stewart's Meeting, a can-not-be-postponed confab between the leaders of the super-powers which everyone is afraid BAST will interfere with (to put it mildly). Baradj intends to gain millions by holding these leaders hostage. There's a sexy Russian lady spy, betrayals galore, murders on ship board, a complement of Wrens, sinister double-agents, a curious psychiatrist, and lots of twists and turns as Landsea gets underway, details of which it would be criminal to reveal. Needless to say this is a fast-paced, suspenseful and absolutely top-notch Bond adventure that will have 007 fans happily turning pages into the wee hours.
During a meal with M, we learn of Bond's fondness for horse radish made with real bite in the correct old-fashioned way. In a footnote the book suggests that Bond saw action during the Falklands War.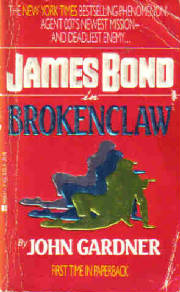 BROKENCLAW. John Gardner. 1990.
M assigns Bond to take the place of a courier who is going to buy important plans from one Lee Fu-Chu, aka Brokenclaw Lee, who is half-native American and half-Chinese [his last name, Fu-Chu, may be a homage to the great Oriental villain Fu Manchu, who was the inspiration for Ian Fleming's Dr. No.]. Lee not only controls the criminal element in San Francisco, he has the plans for LORD [which can detect submarines at fantastic depths] and LORDS DAY [which in essence renders LORD inoperable], and is also rapidly embarking on a scheme - in league with General Hung Chow H'ang - called Operation Jericho, to cause a financial disaster on the stock exchange. With fellow agent Sue Chi-Ho (or Chi-Chi Sue) at his side, Bond infiltrates Brokenclaw's unique headquarters, which is hidden within and beneath a big house occupied by his record company's latest superstar. Special technology makes it appear to be anything from Virginia to old-time London outside the fake windows. Bond is rubbed with animal fat and nearly fed to ravenous wolves, and is involved in a battle between two helicopters. The climax takes place on an Indian reservation where to settle matters Bond and Brokenclaw compete in the torture exercise of O-kee-pa, where pegs are driven into their limbs and they must race while dragging skulls loaded with rocks --before trying to eliminate each other with bow and arrow.
While Brokenclaw isn't on the level of Scorpius or Win, Lose or Die, it is still a very good read with interesting sequences and a near-classic villain who could have been developed into a major adversary. Gardner gives a lot of time to a new character, U.S. Naval Intelligence Officer, Commander Ed Rushia, who functions in this story as a kind of latter-day Felix Leiter. There is another female Chinese-American naval agent, Wanda Man Song Hung, who sleeps with Brokenclaw to gain info after allowing herself to be "given" to him in lieu of payment for her father's debts. Bond apparently falls in love with – and quotes poetry to -- the other woman, "Chi Chi," but their affair seemingly does not last too long past the end of this story.
On Brokenclaw's private jet, Bond orders the special martini first mentioned in Fleming's Casino Royale and repeats his observation that good caviar needs plenty of toast, also first voiced by him in Casino Royale.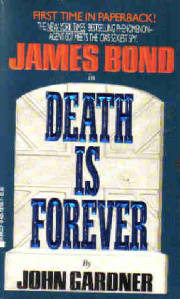 DEATH IS FOREVER.
John Gardner. 1992. Once again the members of an undercover operation – this time codenamed Cabal – are being wiped out one by one. Bond is teamed with CIA agent Easy St. John [with whom he falls in love rather quickly; any bets on her life expectancy?] to take on the spy known as the Poison Dwarf, the German-Russian Wolfgang Weisen. Easy and Bond take over for two members of Cabal, code-named Vanya and Eagle, and try to find out who in the group betrayed the others. Could it be Praxi Simeon, or the dangerous Harry Spraker? It all leads to a lot of skullduggery in and around the canals of Venice, and an exciting, satisfying [if rather brief] climax in the chunnel connecting England to France where terrorists plan to kill off a whole bunch of world leaders at a stroke. There's a coda in which Bond must fight for his life against two determined females out for blood, and the bit with the fiddleback spiders in the sandwiches is certainly memorable. A very good Gardner Bond adventure that fully exploits the paranoia of never knowing exactly who can or cannot be trusted.
Bond has dinner at the Terminus Nord restaurant near the train station in Paris, and stays at the luxurious Hotel Cipriani in an island right off Venice, where much of the story takes place. [Like most of the places Gardner describes, this hotel actually exists. Check out their website.] Eating a sensational, vividly-described dinner in the dining room he notices an elderly couple who "hardly exchanged a word. It was either a case of long-term monotony or companionable silence." As in inside joke Bond says "someone once said I looked like Hoagy Carmichael with a cruel mouth."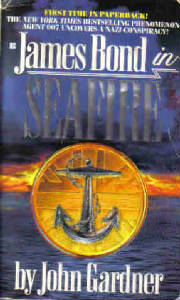 SEAFIRE. John Gardner. 1994. While not on the level of Win, Lose or Die or Scorpius, this is still a top-notch effort from Gardner. In this outing Bond and girlfriend Flicka (Fredericka) von Grusse take on the evil machinations of public entrepreneur and private arms dealer Sir Maxwell Tarn, who stages his own death and plans a fiendish strike off the waters of Puerto Rico that will hopefully establish him as a Nazi power to reckon with. The climax has Bond hiding out on a sub upon which he has hidden plastique bombs, wondering if he made a mistake by taking a personal hand in the mission (instead of calling in the cavalry) due to his own ego. Tarn has two tough bodyguards who turn out to be women in disguise, as well as another sadistic agent named Beth who is one nasty customer (some of his male employees are equally dastardly). He also has a beautiful former model wife who is Jewish and comes to a bad end. Bond muses that the "neo-Nazi's" springing up in the reunified Germany are not "neo" at all but bonafide Nazis.
Flicka, who was introduced in Gardner's Never Send Flowers, moves in with Bond in this novel; Bond even proposes to her and she gives him a happy "yes" in response. Flocka brings out Bond's sensitive and caring side, which was always part of 007's character in the books if not the films. Bond is assigned to a new Double Oh section in this book – the Two Zeroes – which is subtly different from the old one.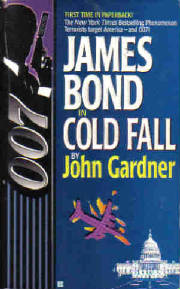 COLD FALL. John Gardner. Putnam's; 1996. Gardner's final Bond novel is not on the level of his best books, but it has its moments and quite a few surprises. Bond is called in along with other specialists when a plane from Heathrow explodes killing all aboard as it comes in for a landing at Dulles airport in Washington D.C. Two Bond beauties figure in the action: Sukie Tempesta from Nobody Lives Forever and Beatrice Maria da Ricci from Win Lose or Die. [We also learn the final fate of Bond's lover Fredericka von Grüsse from Never Send Flowers and Seafire.] Although Bond is very fond of Sukie, he could see himself spending his life with either Beatrice or Freddie. The story has two parts, which take place four years apart (in between come the adventures told in Never Send Flowers and Seafire). In part one Bond tries to infiltrate the Tempesta family (Sukie's brothers-in-law) who turn out not to be so rinso white as originally thought, and in part two he's up against the brothers' co-conspirator General Brutus Clay, head of COLD [Children of the Last Days], who kidnaps M in part one and reveals his plan to take over the U.S. [to rid it of crime and immorality] in part two. You finally find out who blew up the plane, and why, near the end of the book. M is forced into retirement and replaced with a woman, who does not appear in the story. Gardner cobbles together elements from previous books and doesn't quite juggle them as successfully, but much of the book is quite entertaining and suspenseful.